Spotlight on the 42nd Paléo Festival Nyon!
Paléo unveils the poster of the 42nd edition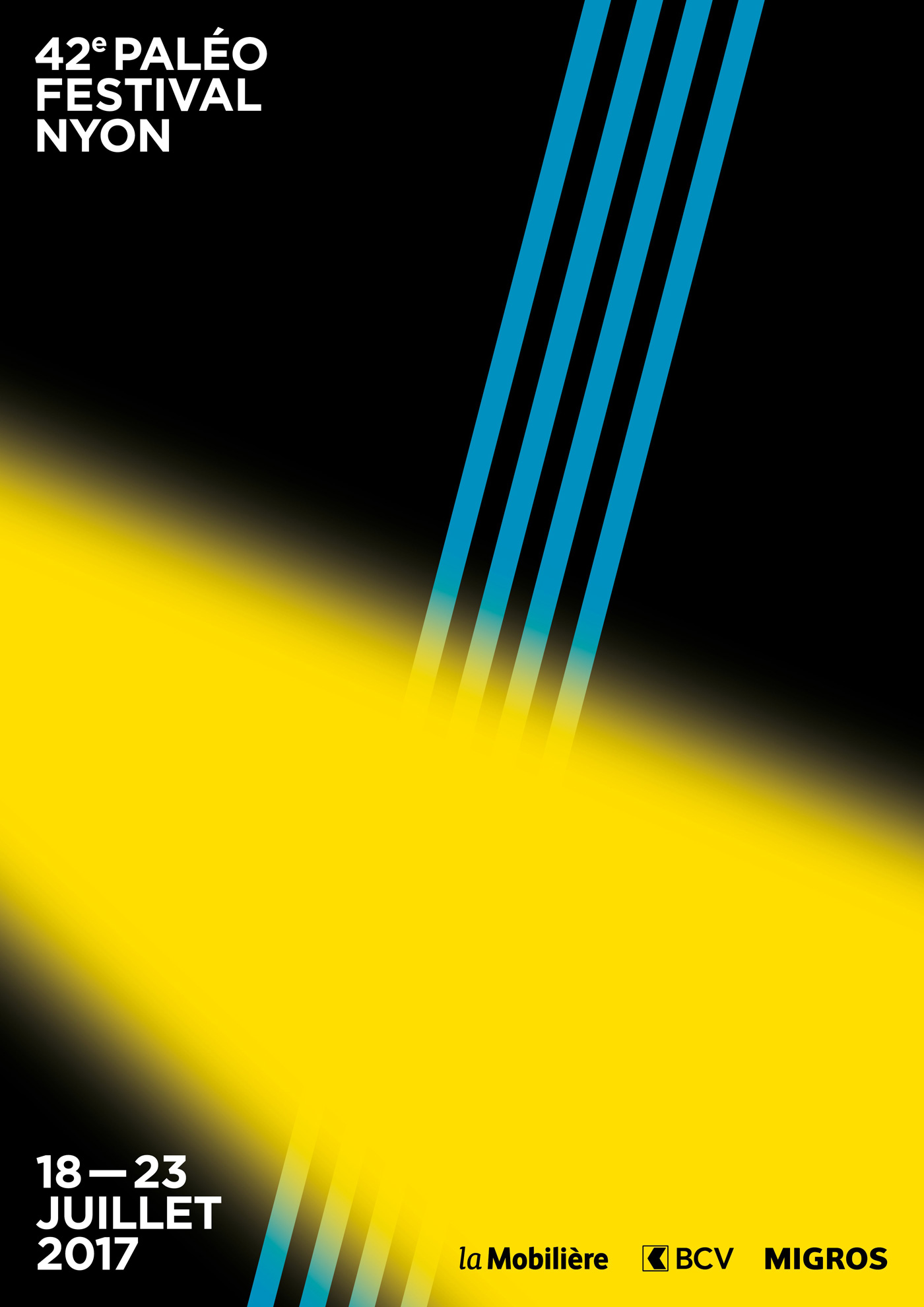 Paléo Festival Nyon is today unveiling the poster for its 42nd edition. A resolutely contemporary visual universe that puts the stage and its lighting effects firmly at the heart of the poster.
Winners of a workshop at the HEAD-Genève (one of the universities of applied science of the HES-SO) run by the Geneva-based agency BaseDesign, Catia Ferreira Barreiras and Nausicaa Planche are two young students, aged 21 and 22 respectively, in the second year of a visual communications degree. Today, they are presenting the fruit of their artistic collaboration, revealing a visual universe characterised by a resolutely sober aesthetic and fresh colours.
The lights of the Festival
Directly inspired by the various lighting sources at Paléo, this project presents a graphic transcription of light in all its forms. "The idea of representing the Festival's lighting in graphic form came to us quite spontaneously. By plunging into memories of our own experiences of the Festival, we realised that we had both been struck by the colours, the forms and the contrasts that emanated from the Festival's stages, both by day and by night. We wanted to illustrate what for us represented the soul of Paléo: the concerts, the artists and the public. The lighting, spots, beams and projectors reflecting off the audience and playing on the artists inspired this visual universe, made of geometrical forms and flashy colours."
Catia and Nausicaa first started by researching and immersing themselves into images and photos of the Festival. From these, they were able to isolate the lighting sources, and transpose them vectorially into sober geometric figures: lines, triangles and circles with clean contours and other elements to which they added blurring effects in order to accentuate the representation of beams of light. The colours were also sourced directly from images of the Festival. The yearly visuals are used as derivatives on a large number of different supports: "We created a large palette allowing both myriad mixings and superpositions of the different compositions and elements and a holistic representation of the Festival, whilst offering a sober and contemporary form of identification".
Please note
The 42nd edition of Paléo Festival Nyon will take place from 18th to 23rd July 2017 and will host a Village du Monde colourfully decorated in the motifs and shades of Central America. The line-up will be revealed on Tuesday 28th March and tickets will go on sale at midday on Wednesday 5th April 2017.