2012
From July 17th to 22nd 2012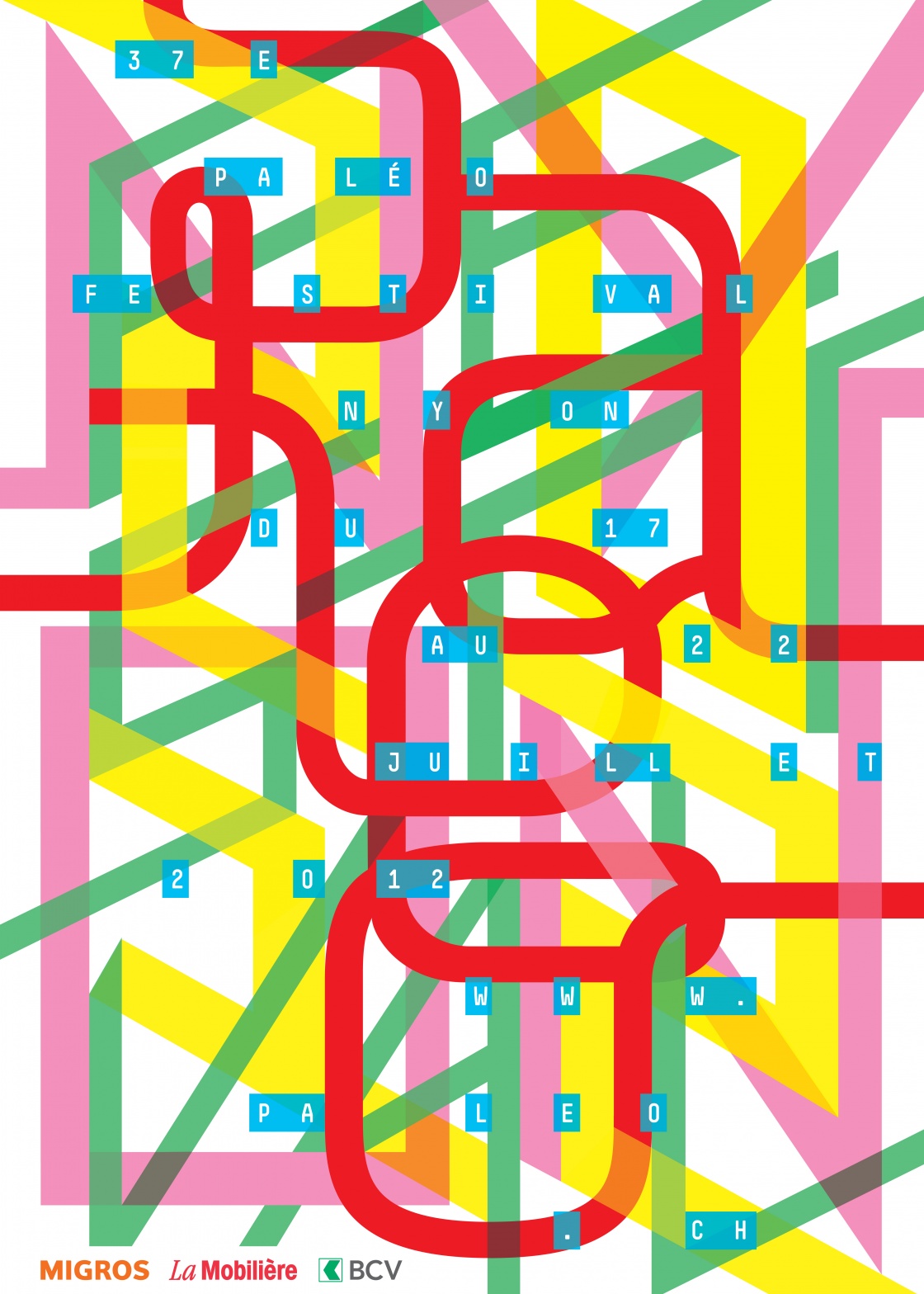 6 stages
234 concerts and shows
230,000 spectators
16.46 hectares
4,565 volunteers
Poster designed by Aurélien Farina
A 37th edition of the Festival humming with positive vibes! An eclectic line-up saw some of the rock stars of yesterday and today rubbing shoulders with artists from French chanson, electro and hip-hop on the splendid Asse meadowland. With outstanding performances from The Cure, Sting, Franz Ferdinand, Garbage, Roger Hodgson, Manu Chao, Hubert-Félix Thiéfaine, Camille and Brigitte, not forgetting David Guetta, Justice, Agoria and OrelSan, 1995 or Dope D.O.D, the 230 000 festivalgoers were the enthusiastic witnesses of some unforgettable musical moments. The Swiss music scene was present in force, both in terms of quality and quantity, with the likes of Honey For Petzi, Peter Kernel and l'Orchestre Tout Puissant Marcel Duchamp.
The 10th edition of the Village du Monde played host to the Middle East and its numerous cultural and musical riches, including the Trio Joubran, Balkan Beat Box, Avishai Cohen and Omar Souleyman. Suspended on the slopes of the Quartier des Alpes, Monic la Mouche and her flaming, rusting metal latticework invited festivalgoers to linger and wander in dreamlike, contemplation. Reinventing itself each year, the focal point of the 2012 HES-SO project was undoubtedly « Normapolis », an architectural installation comprising 40 shipping containers. A completely rethought and re-looked La Pl'Asse, was the setting for a multitude of concerts and other entertainments. La Ruche, that crazy laboratory of street entertainers and acrobats, welcomed young and old in the purest spirit of circus arts and street theatre. La Galerie, a new exhibition space for creations inspired by the Festival, enabled the public to discover the photographic work of Pierre Descombes.
Artists
1995, 7 Dollar Taxi, 77 Bombay Street, A State Of Mind, Addictive TV, Agoria presents "Forms", Airnadette, Anna Aaron, Assafir El Hawa, Avishai Cohen, Aya Waska, Baba Zula, Balkan Beat Box, Barbapapi, Blitz The Ambassador, Bloc Party, Bon Iver, Boy, Brigitte, Broukar, Buvette, Bénabar, C2C, CABADZi, Camille, Cap Indigo, Caravan Palace, Charlotte Parfois, Chinese Man, Christine, Cie Carabosse in "Chez Cocotte", Cie Colbok in "Les Hirsutes", Cie Dynamogène in "Le Petit Catalogue, Manufacture d'Utopie" (The Small Catalogue, Manufacturing Utopia), Cie D'Outre-Rue in "Amen World", Cie D'Outre-Rue in "On Air", Cie D'Outre-Rue in "Petites Prophéties Urbaines", Cie Eléphant Vert in "Le Meilleur Ami de l'Homme" (Man's best friend), Cie Midi 12 in "La Fanfare Electrique" (The electric brass band), Cultures Monde, DAM, Da Cruz, Dagobert, David Guetta, Dionysos, Dominique A, Dope D.O.D., Egyptian Project, Etienne Krähenbühl - The Sculpture Garden, Filastine (DJ Set), Foreign Beggars, Francis Francis, Franz Ferdinand, Gablé, Garbage, GiedRé, Givers, Great Mountain Fire, Groundation, Hamelmal Abaté & Imperial Tiger Orchestra, Hanni El Khatib, Hollie Cook, Honey For Petzi, Hubert-Félix Thiéfaine, Ibrahim Maalouf, Imany, Irma, Jack is Dead & son Orchestre Iranien, Jean-Pierre Estournet, Justice Live, Kaltehand / Natasha Waters, Kev Adams, Kurt Vile & The Violators, L'Elastique Citrique in "Famille de Cirque" (Circus Family), La Gale, Ladylike Lily, Le Lido Comedy&Club, Lenny Kravitz, Les Petits Chanteurs à la Gueule de Bois (Little singers with a hangover), Les Tistics in "Les Franglaises", Lindy Hop, Charleston , M83, Manu Chao La Ventura, Marissa & The Steady Tiger, Mashrou' Leila, Maxim Vengerov & Les Solistes de l'Académie Menuhin, Mazalda in "Turbo Clap Station", Miles Kane, Monic La Mouche, Monoski, Nadeah, Nai Qala (partner), Natacha Atlas, Niyaz, Noman Hosni, Omar Souleyman, Orchestre Tout Puissant Marcel Duchamp, OrelSan, Other Lives, Oxsa, Peter Kernel, Pro Natura, Raggasonic, Rodrigo Y Gabriela and C.U.B.A., Roger Hodgson, Rover, Schnautzi, Shake It Maschine, Skip The Use, Stephan Eicher, Stephan Eicher und die Automaten, Sting, Stories of Oriental wisdom, Swing, Shoes & Lipstick, The Alaev Family, The Cure, The Deadline Experience, The Khatoon company, The Kills, The Kooks, The Phat Crew, The Rebels Of Tijuana, The Sound Of Fridge, The story of Persian dance, Theophilus London, Thomas Dutronc, Tom Fire, Trio Joubran, Trésors de Palestine, Warpaint, Widdershins, Xewin feat. Yarah Bravo & Bobby Johnson, Yemen Blues, mmmh!