2011
From July 19th to 24th 2011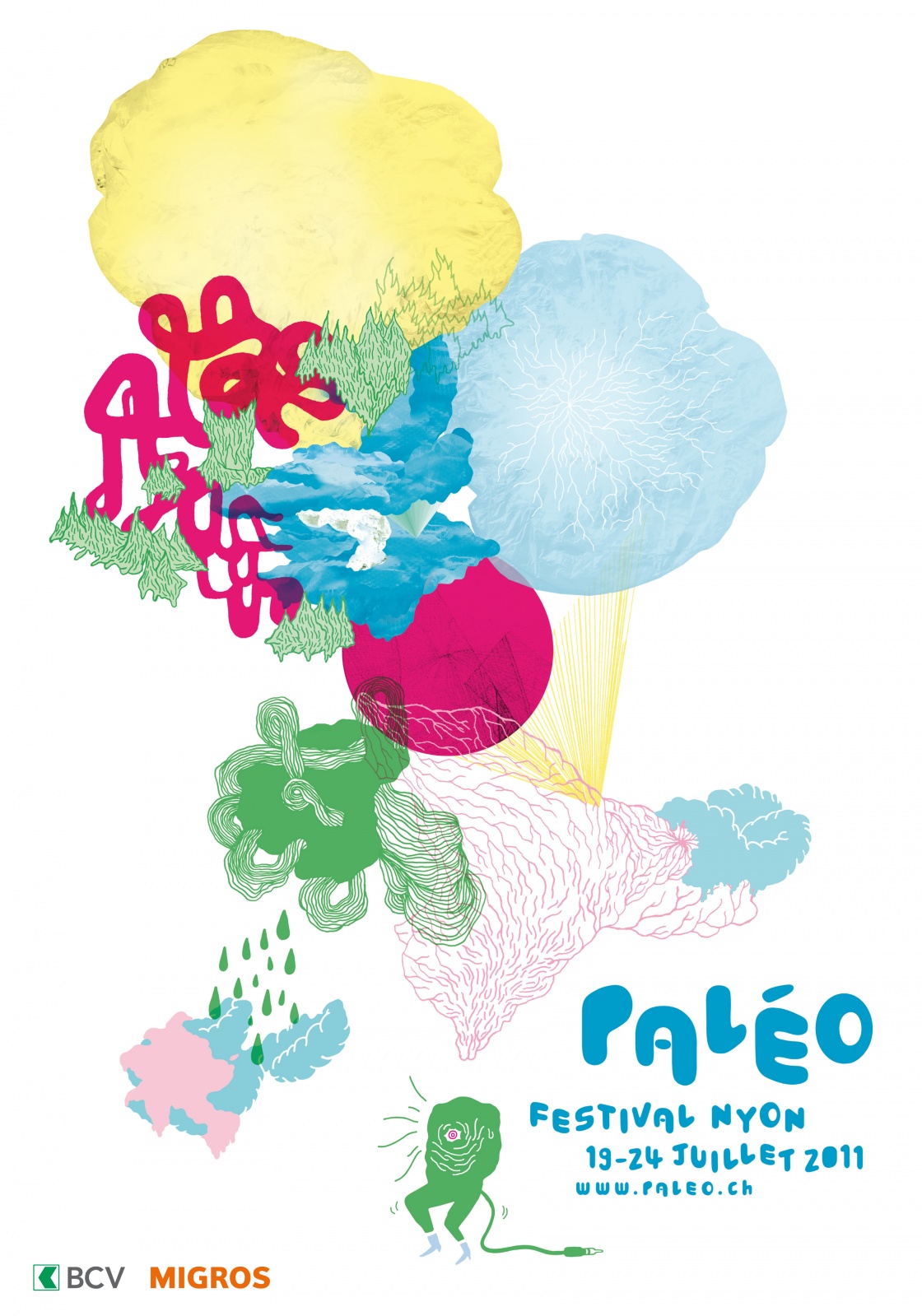 6 stages
211 concerts and shows
230,000 spectators
16.30 hectares
4,415 volunteers
Poster designed by Kyoungmi KIM
A rainy Paléo, but a happy Paléo! With 62.1 mm of rain falling in the space of 8 days – of which 57.8 came in 4 days, representing ¾ of normal rainfall for the month of July – and 6 rain contingency plans over 6 days, the 36th Festival made a historic entry into the annals of Paléo. But the rain, mud and cold weather did nothing to dampen the spirits of the 230 000 festivalgoers, 4015 volunteers and almost 1700 artists and technicians.
This edition saw a succession of big names appearing on the Grande Scène, from the romantic pop of James Blunt, to the dream-like universe of Mika, the enlightened dandyism of the Strokes and the legendary voice of Robert Plant, one of the founding fathers of rock and roll. An unforgettable evening saw a tidal wave of bass and light accompanying the Chemical Brothers following on from the classy, delicate touch and intelligent music of Portishead, who seemingly defy the laws of musical gravity. As for PJ Harvey, she took the audience on a cosmic journey through her personal universe, all fragility and grace.
The Indy scene was brilliantly represented by the likes of The National and the airy and elegant Beirut, in melancholic but inspired mood under a captive Chapiteau. Meanwhile the newcomers were knocking on the door of the Club Tent, with the organised chaos of the English band Pulled Apart By Horses and the sublimated rage of Anna Calvi. Stromae and Soprano took turns in enthralling a Chapiteau bursting at the seams. Cali then responded generously to an enthusiastic audience totally won over to the cause of his French rock-chanson while the eternally young Jean-Louis Aubert cast his spell over fans of many different generations. Just like the Cowboys Fringants, a musical UFO from Quebec, whose delirious energy wreaked havoc over at the Grande Scène. The Swiss music scene boasted a few of its most talented exponents, including Oy, Fiona Daniel, Pierre Omer and Great Black Waters.
In the Village du Monde, with its coral reef and Caribbean colours, audiences applauded the electro hip-hop ragga of Bomba Estéreo, the Systema Solar sound system and the Latin jazz of Chucho Valdés. La Ruche, this year in circus mood, offered the public a variety of shows, filled with poetry and laughter, and provided a rallying point for the many itinerant street theatre troupes as they set out across the Festival site.
For the very first time in 2011, the installation Galets Bleus provided the public with a haven of tranquillity on the slopes of the Quartier des Alpes in the form of water mattresses and mysterious lighting effects. At the HES-SO area, the architectural installation Woodblock.ch, constructed out of some 7500 palettes, provided a fitting backdrop to the 16 innovative projects thought up by 300 students from 14 disciplines.
Artists
AaRON, Admiral T, Afrocubism, Aide et Action, Aliose, Angus & Julia Stone, Anika, Anna Calvi, Appel Dayiti, Aurelio, Avi Buffalo, Beak>, Beataucue, Beirut, Binary Audio Misfits, Bloody Beetroots Live, Bomba Estéreo, Bonobo (live), Boukman Eksperyans, Cali, Calle 13, Calypso Rose, Camélia Jordana, Cap Indigo, Captain Moustache & Fredo Ignazio, Chien de Cirque in "Bread, Circus & Roses", Chucho Valdés, Cie Décatalogués in "Mister Blok", Cie Ecart in "Les Homs Fums", Cie Ekart, Cirque Branc in "La Petite Formule", Cirque Exalté in "Complètement Swing", Cocoon, Concrete Knives, Congotronics vs Rockers, DJ El Pirata , DJ Mike One, Danakil, Dans La Tente, DarTeKa Danse , Ecole de Cirque Coquino Morges, Eddy Mitchell, Ensemble Vocal et Instrumental de Lausanne, Conducted by Michel Corboz – Requiem de Fauré, Fiona Daniel, Florent Marchet, GZAH-Les amis d'Haïti (Friends of Haiti), Great Black Waters, Irma, Irma, Isis L. et Jacky Lagger, Jack Johnson, Jamel Debbouze in "Tout sur Jamel", James Blunt, Jean-Louis Aubert, Joaquin Diaz, June & Lula, Kadebostany, Kara Sylla Ka, Karimouche, Katerine, King Charles, La Compagnie Makadam, La Fanfare En Pétard, La Fête des jeux, Les Cowboys Fringants, Les Galets Bleus, Les Rescapés, Lilly Wood & The Prick, Los Charangueros - Ecole de salsa DAME2, Los De Abajo, Los Van Van, Macadam Piano in "Piano de Feu", Madjo, Mama Rosin, Maïon et Wenn, Metronomy, Mika, Missill DJ Set, Moriarty, Mosquito, Mr Dame, Médecins Sans Frontières, Nala-The $2 Philosopher, Nasser, Noisettes, Nouvelle Planète, Oh! Tiger Mountain, Oy, PJ Harvey, Patrice & The Supowers, Pierre Omer, Pigeon John, Portishead, Professor Wouassa, Pulled Apart By Horses, PÅG, Queen Ifrica & Tony Rebel, Raúl Paz, Renegades Steel Orchestra, Robert Plant and The Sensational Space Shifters, Round Table Knights, Save it.Haïti, Selah Sue, Shaka Ponk, Sheila She Loves You, Soca Twins , Solillaquists of Sound, Soprano, Sound System Mobile, Stromae, Systema Solar, Tame Impala, Tarrus Riley & Duane Stephenson, The Adventures of Poncho Miguel (creation), The BellRays, The Bewitched Hands, The Chemical Brothers, The Creole Choir of Cuba, The Dø, The Hillbilly Moon Explosion, The National, The Strokes, Tony Clifton Circus in "Rubbish Rabbit" , Trip In, Ventura, We Love Machines, Welington Irish Black Warrior, William White, Yael Naim, Yokonoe, Yumuri y Sus Hermanos, Zaz, Zumba, Überreel