2016
From July 19th to 24th 2016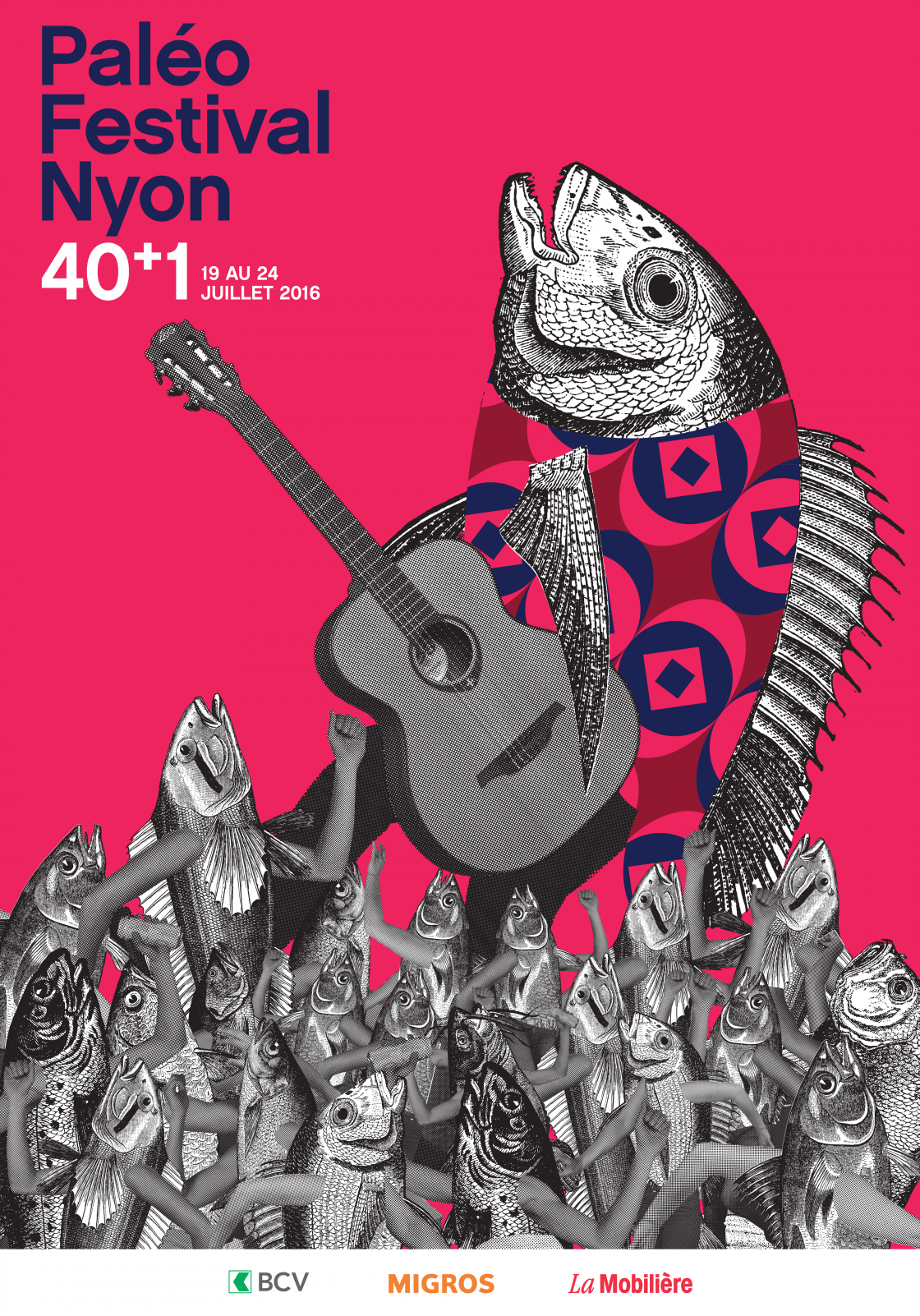 7 stages
282 concerts and shows
230,000 spectators
16.15 hectares
4,770 volunteers
Poster designed by Ana Lourenço & Boris Jordan
A new decade of Paléo Festival kicked off under the banner of innovation and a multitude of artistic, cultural and architectural discoveries. The Village du Monde, decked out in Celtic colours, received a unanimous thumbs-up from the public, who appreciated the convivial and festive character of the place, as well as the fairy-like verdant décor. Festivalgoers were also quick to adopt the innovations and new installations around the ground, aimed at better welcoming and improving the comfort of the paying public.
The 40+1 edition was marked by some memorable shows by the likes of Muse and Iron Maiden, who lived up to the expectations of audiences who had turned up in huge numbers. Les Insus, The Chemical Brothers and Massive Attack were unanimously lauded by the public. The authenticity of Francis Cabrel and the delightfully delicate performance by Stephan Eicher und die Automaten, touched the hearts and minds of festivalgoers. Les Arches stage provided the backdrop for a solar performance by Marina Kaye and was then thoroughly electrified by Birdy Nam Nam, The Shoes and The Avener, who confirmed the full extent of their talent. As far as revelations were concerned, the burning energy of Hyphen Hyphen and the cosmopolitan freshness of Jain had a grooving Détour under their spell. The Swiss were not to be left out, as the heterogeneous universes of Pandour, Promethee, The Animen and Le Roi Angus received all the plaudits.
At the Village du Monde, with a blend of Celtic traditions and contemporary music, Carlos Núñez had the audience spellbound with his sublime gaita playing, whilst the verve of the Red Hot Chilli Pipers and Happy Ol'McWeasel set off a veritable fireworks display of vibrant, festive sounds.
A few steps away from the concerts, the Ruche played host to a series of hypnotising shows, both musical and circus, around the theme of gesture and movement, to the delight of all fans of street theatre. At the Quartier des Alpes, the public were able to marvel at the sculptures created by the metal lace makers of Monic la Mouche, including the Quai des Alpes, a majestic and poetic masterpiece. The public also turned up in great numbers to explore the astonishing Rocking Chair & Rock'n'Roll installation conceived by the HES-SO and the exhibition of the works by photographer Mehdi Benkler.
ARTISTS
3Somesisters, A-Wa, AaRON, Abd Al Malik, Afuma dans "Les Echassiers du Togo", Alain Souchon & Laurent Voulzy, Alan Stivell, Alex Beaupain, Aliose, Altan, Anach Cuan, Anonima Teatro dans "La Route", Antipods, Bagad Karaez, Bal Celtique - Delienn, Bal Celtique - Hop Corner, Bal Celtique - La Contrebande, Balthazar, Bastille, Bigflo & Oli, Birdy Nam Nam, Boys Noize Live, Caribbean Dandee : Joey Starr & Nathy, Carlo de Rosa, photographe, Carlos Núñez, Cie Kartoffeln dans "Mon Ange Gardien", Cirque Albatros dans "Louche/Pas louche?", Cirque Exalté dans "Furieuse Tendresse", Cití Mac, Coilguns, Coiscéim, Collectif Prêt à Porter dans "Droit dans le Mur", Courtney Barnett, D'Jal dans "Just D'Jal", DBFC, DJ Galette, Danceperados of Ireland, Deluxe, Denez, Egopusher, Eluveitie, Fakear, Feldermelder plays "Erratic", Flavien Berger, Francis Cabrel, Fréro Delavega, Gerry Oulevay dans "Magnésium Photographer", GiedRé, Grand Blanc, Guizmo, Happy Ol'McWeasel, Hyphen Hyphen, Ibrahim Maalouf, Iron Maiden, J.C. Satàn, Jain, Jas Crw, Jazz Combo Box dans "Scratcho'Band", KiKu & Blixa Bargeld & Black Cracker, Kompanie Ofwel dans "Racebob", Krismenn & Alem, L'Entourloop, Last Train, Laura Gambarini dans "Le Cirque du Botte-Cul", Le Roi Angus, Les Frères Guichen, Les Humanophones dans "Corpus", Les Insus (ex-Téléphone), LiA, Lilly Wood & The Prick, Louane, Louise Attaque, Mansfield. TYA, Marina Kaye, Massive Attack, Mbongwana Star, Merci Madame dans "Tact'ils", Michel Polnareff, Mister Alambic dans "Cirque & Pique", Muse, Nattali Rize, Ocean Wisdom, Pandour live, Panorama Kino Theatre, PihPoh, Pipes & Drums of Geneva, Promethee, Red Hot Chilli Pipers, Reporters sans frontières (partenaire Festival), Rover, Sarah W. Papsun, Sharon Shannon Band, Simpig, Sinfonietta de Lausanne, Direction Alexander Mayer - Clarinettes: Corrado Giuffredi et Cindy Lin, Soom T, Stephan Eicher und die Automaten, Steve'N'Seagulls, Stéphanie Blanchoud, Synapson, Tatum Rush, The Angelcy, The Animen, The Avener, The Celtic Social Club, The Chemical Brothers, The Deaf, The Lumineers, The Rapparees, The Raven Age, The Real McKenzies, The Shoes, The TWO, Thomas Dutronc, Throes + The Shine, Tiken Jah Fakoly, Turbo Sans Visa, Vianney, Viviskes, Vladimir Spoutnik dans "Bubble Boum", Vladimir Spoutnik dans "Con comme la Lune", Vladimir Spoutnik dans "L'Apérobic de Vladimir", Vouipe, We Are Match, mps PILOT