2017
From July 18th to 23rd 2017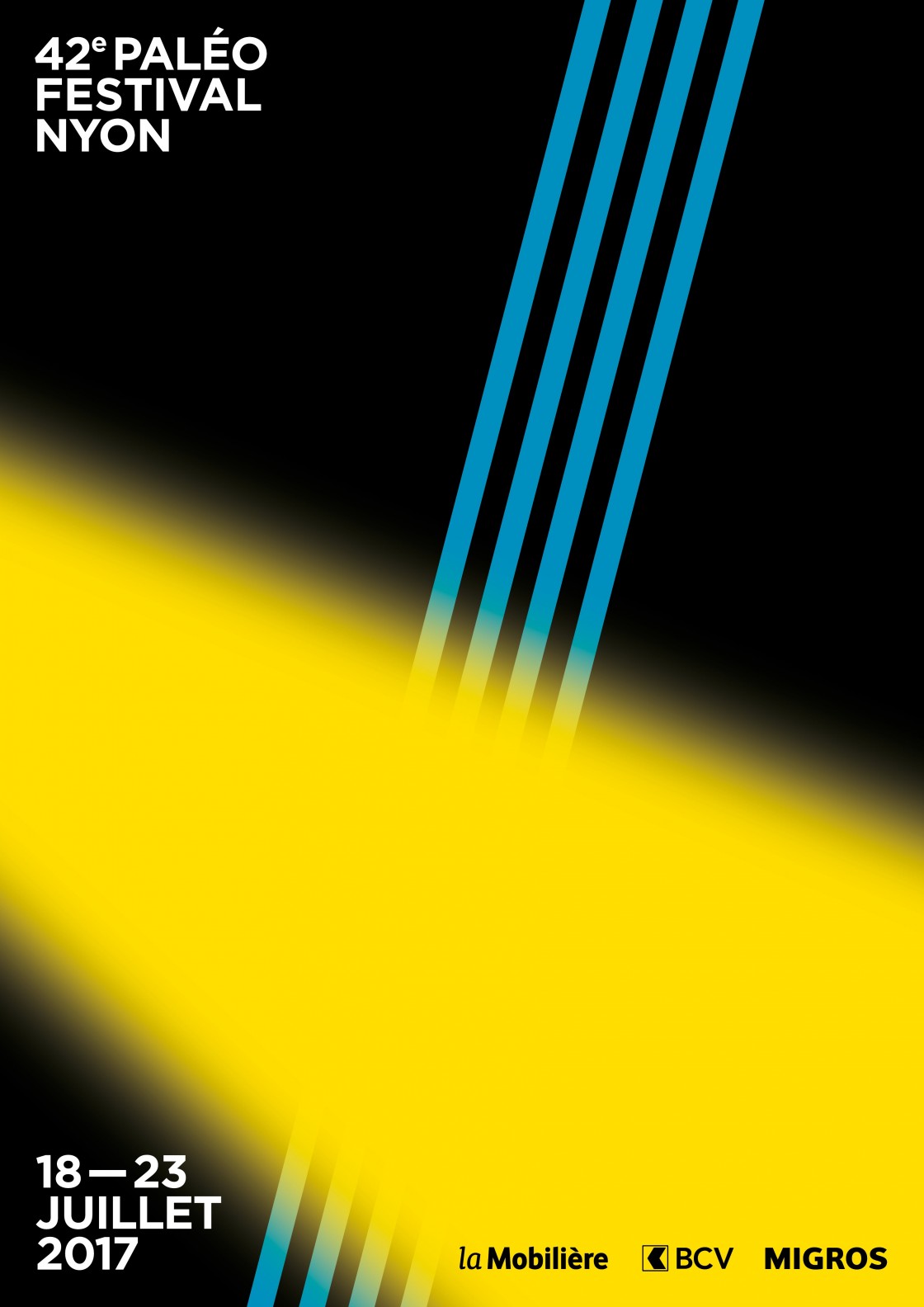 7 stages
285 concerts and shows
230,000 spectators
16.38 hectares
4,800 volunteers
Poster designed by Catia Ferreira Barreiras and Nausicaa Planche
The Asse Plain, magnificently decorated, served as a backdrop to some unforgettable concerts. 2017 was marked by memorable performances by Midnight Oil, Arcade Fire and the Red Hot Chili Peppers, who lived up to the expectations of the massive audiences thronging in front of the Grande Scène to applaud them. Despite the very hot temperatures recorded during the first few days of the Festival, followed by the introduction of a partial rain-contingency plan, this 42nd edition draws to a close in a sunny and luminous atmosphere.
The generous performance of Julien Doré, the authenticity of Vianney and Tryo touched festivalgoers' hearts. As far as revelations go, the burning sensuality of Lola Marsh, the feverish soul of Jalen'Gonda and the disco-funk electro of Parcels had the whole festival site grooving, whilst Jupiter & Okwess and Fishbach cast their spell over the audience at the Détour. As far as Swiss artists go, the heterogeneous worlds of l'Orchestre Tout Puissant Marcel Duchamp XXL, Fai Baba and Alice Roosevelt won unanimous approval.
Electro once again found favour with the audience, with the delicate and contemplative sounds of Petit Biscuit and a spectacular show from Justice, whilst hip-hop also made its mark with the American rappers Macklemore & Ryan Lewis, the light flow of Black M and the biting Afrotrap of MHD.
Meanwhile the Dôme was being turned upside down by the highly-agitated Ska-punk of Panteón Rococó and the committed reggae of Jah9, whilst every evening, the stage at the Escale provided acoustic sets and shows at the centre of a Village illuminated by the colours of Central America.
The Ruche, which was celebrating its tenth anniversary, once again enchanted lovers of circus and street entertainment. Over at the Quartier des Alpes, the public could admire the fairy-like fire and metal sculptures of Monic la Mouche and the impressive Smooth Volcano installation imagined by the HES-SO, offering magnificent views over the Festival site. Attendance at the campsite remains stable, with about 9000 campers every night, of whom 423 took up residence in the brand-new Pal'Asse zone, made of original multi-color wooden houses, and nearly 400 parked their camper vans.
ARTISTS
Alaclair Ensemble, Alan Corbel, Alice Roosevelt, AllttA, Arcade Fire, Aurelio, Bachar Mar-Khalifé présente "The Water Wheel", Barbagallo, Bauchamp (VJ by GVBVDT), Black M, Boogát, Boulevard des Airs, Broken Back, Calypso Rose, Camille, Carlo de Rosa, Carpenter Brut, Celso Piña, Cero39, Christophe Maé, Cie Créton'Art dans "Bois Ta Lettre", Cie d'Outre-Rue dans "Dévôlution", Cie M & Vous, Cirque Pardi! dans "Borderland", Clément Bazin, Cyril Mokaiesh, Delgrès, Des Lions pour Des Lions dans "Free Fanfare", El Freaky, Fai Baba, Fishbach, Foals, Foreign Diplomats, French Fuse, Gauvain Sers, Georgio, Gerry Oulevay dans "Sorbélo", Her, Hyperculte, I Muvrini, Ìfé, Imany, Inna de Yard, Isolated Lines presents "Schism", Jah9 & The Dub Treatment, Jalen N'Gonda, Jamiroquai, Jérémie Kisling, Joe Sature et ses Joyeux Osselets dans "Autorisation de sortie", Julien Doré, Jupiter & Okwess, Justice, Keny Arkana, KillASon, Kino Theatre dans "Panorama", Kompanie Ofwel dans "The Miami Boys" , KT Gorique, Kumbia Boruka, L'Orchestre de Chambre de Genève et ses "tubes", LA-33, Le Bestiaire à Pampilles dans "La Gaarde", Len Sander, Les Fils du Facteur dans "Le Fabuleux Jukebox", Les Petits Chanteurs à la Gueule de Bois dans "La Gâchette", Lola Marsh, Los Orioles, Macklemore & Ryan Lewis, Manu Chao La Ventura , Marabout, Mark Kelly, Mat Bastard, Meute, MHD, Michaël Gregorio, Midnight Oil, Møme, Nicolas Michaux, Nova Twins, Octave Noire, Orchestre Tout Puissant Marcel Duchamp XXL, Orkesta Mendoza , Panteón Rococó, Parcels, Petit Biscuit, Pixies, Pogo Car Crash Control, Professor Wouassa, Radio Elvis, Red Hot Chili Peppers, Régis, Renaud, Rocky, Rone, Sandor , Sate, Shame, Son Del Salón, Systema Solar, TaxiWars, Temples, The Garifuna Collective, The Inspector Cluzo, The Staches, Tryo, Vald, Vianney, Vitalic - ODC Live, Vladimir Spoutnik dans "In love with Mona & Vlad", Vladimir Spoutnik dans "Spoutnik Disko-Mobil", ZUL - Zone Utopique Lémanique, Zygos Brass Band dans "TRYBZ"
Paléoblog reviews
(French only)