2018
From July 17th to 22nd 2018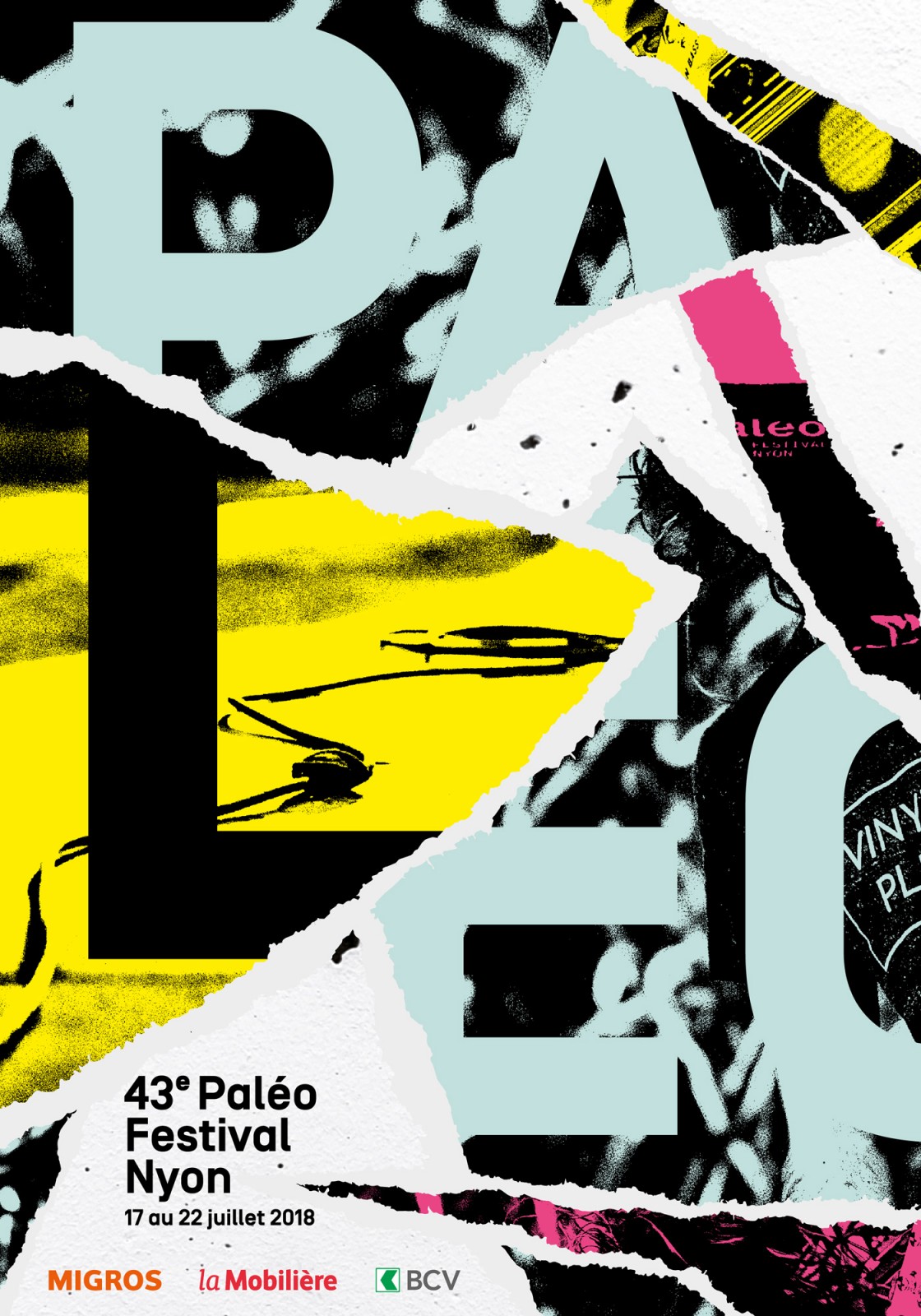 7 stages
276 concerts and shows
230,000 spectators
16.37 hectares
4,840 volunteers
Poster designed by Jodie Aeschlimann und Joanne Joho
After an opening in great pomp with a show by the legendary band Depeche Mode, this 43rd Paléo Festival Nyon will certainly stay engraved in the minds. The beautifully decorated plaine de l'Asse was the setting for some unforgettable concerts, notably memorable performances by OrelSan, Gorillaz, Lenny Kravitz, MGMT and Jain, which met the expectations of audiences massed in front of the stages. And so the 2018 edition drew to a close in a radiant atmosphere. The wide range of rap and hip hop music was given pride of place this year and found its audience with the phenomenal Bigflo & Oli, Nekfeu and Suprême NTM. The flow of Romeo Elvis, Lorenzo, Little Simz and the aptly-named XTRM Tour received a massive thumbs up.
The Dome was enthralled by the grace of Ana Moura, the bubbling energy of La Pegatina and the aura of the cantautore Vinicio Capossela, while the Escale stage hosted acoustic sets and shows each evening in the centre of a spectacular Village, radiant in the colours of Southern Europe. In 2019, the Village du Monde will explore the riches of Quebec.
In addition to the concerts, La Ruche hosted hypnotic circus and sound shows, all under the banner of burlesque, to the delight of street theatre lovers. In the Quartier des Alpes, the public were able to appreciate the sculptures of those metal lace makers, Monic La Mouche, including the majestic and poetic Quai des Alpes. An astonishing number of people explored the amazing DEEP installation by the HES-SO, the interactive creation of La Lanterne and the exhibition by the photographer Nicolas Patault at La Galerie.
ARTISTS
47SOUL, A Filetta, Adieu Gary Cooper, Algiers, Altin Gün, Ana Moura, Angèle, Anonima Teatro, António Zambujo, Arnaud Rebotini (live), Audio Dope & Band, Bandakadabra, Bernard Lavilliers, Bicep (live), Bigflo & Oli, Black Rebel Motorcycle Club, Bon Voyage Organisation, Brassmaster Flash, Calima, Camille & Julie Berthollet, Canzoniere Grecanico Salentino, Carlo de Rosa, Charlotte Cardin, Cie Dédale de Clown, Cie du Botte-Cul, Cie Ekart, Cie Kartoffeln, Cie Les P'tits Bras, Cie Progéniture - Le Bal à Pat' !, Cie Progéniture - Le Pat'Mouille Show !, Cie Titanos, Clara Luciani, Claudio Capéo, Crimer, Danitsa, Declan McKenna, Depeche Mode, Diron Animal, Django Django, Eddy de Pretto, Emir Kusturica & The No Smoking Orchestra, Feder, Feu! Chatterton, FOU! (FlexFab & Hook), Fréquence Moteur, Gerry Oulevay, Ghetto Kumbé, Giufà , Gorillaz, H E X, Havana meets Kingston, Hungry 5 feat. Worakls, N'to & Joachim Pastor, Ibeyi, IDLES, Imam Baildi, Indochine, Inüit, J. Bernardt, Jahneration, Jain, Jamel Debbouze, Kaleo, Kid Francescoli, KOKOKO!, L'Orage & L'Eclair = La Tempête, La Pegatina, Le Muscle, Lenny Kravitz, Les Humains Gauches, Little Simz, Lo Còr de la Plana, Loïc Nottet, Lonepsi, Lorenzo, Luca Bassanese & La Piccola Orchestra Popolare, Lysistrata, Magic & Naked, Malik Djoudi, María Símoglou Ensemble, Mario Batkovic, Mascarimirì, Mawimbi, MGMT, Mister Milano, Muthoni Drummer Queen, Nathaniel Rateliff & The Night Sweats, Nekfeu, Nina Kraviz, Nomadic Massive, Opuswerk + Benjamin Muzzin, OrelSan, Rilès, Roméo Elvis, S.O.S, SARO, SOJA, Sombre Sabre, Stabat Mater de Rossini, Superorganism, Suprême NTM, The Killers, Theo Lawrence & The Hearts, Tshegue, Txarango, Vendredi sur Mer, Vianney, Vinicio Capossela, Warhaus, XTRM Tour feat. Makala, Slimka & Di-Meh, Yonaka
Paléoblog reviews
(French only)