2015
From July 20th to 26th 2015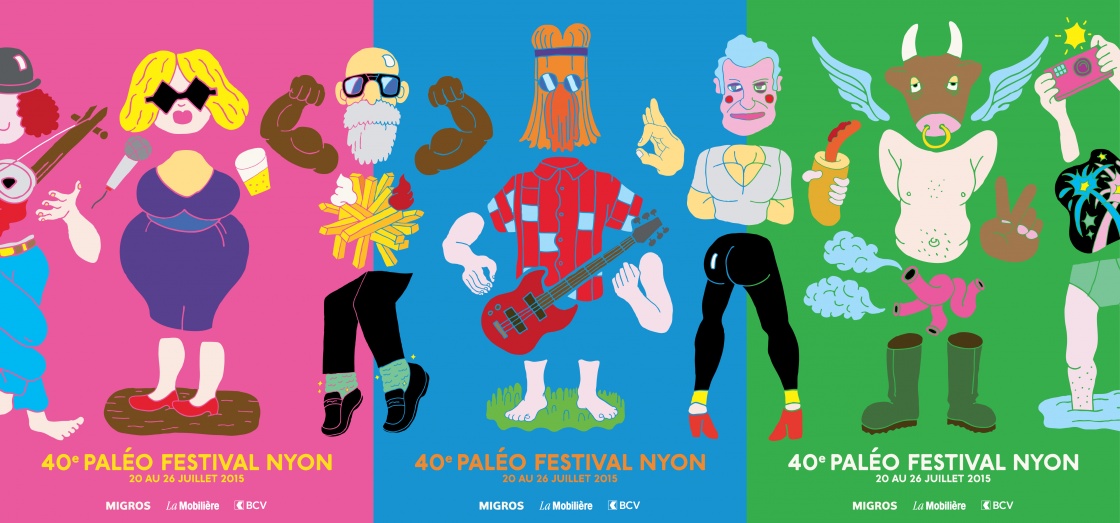 7 stages
329 concerts and shows
270,000 spectators
16.04 hectares
5,000 volunteers
Poster designed by BaseDesign
The 40th edition of Paléo Festival Nyon, enriched by an additional day was marked by waves of positive vibes and unforgettable concerts, characterised by legends, rich discoveries and a party atmosphere. After a grand opening with the generous show by Robbie Williams, this 40th edition will assuredly remain engraved in our memories. From Sting to Véronique Sanson or Johnny Hallyday and Christine and the Queens, both legendary stars and new discoveries fulfilled all their promises. The timeless class of Joan Baez, an inspired Robert Plant and the authenticity of Patti Smith lived up to the expectations of festivalgoers who came in massive numbers to acclaim them. The melodic rock of The Script and the classy blues of Gary Clark Jr. cast a spell over the Asse plain, unanimously seduced by the incisive humour of the show by 120 Secondes, who took the mickey out of Paléo in no mean style.
The other stages served as a backdrop to the solar performances of Faada Freddy and Nneka and were illuminated by Passenger and The Dø, who confirmed all the depth and range of their talent. In the revelations department, the widely diverse universes of Feu! Chatterton, Husbands, Bigflo & Oli and Shake Shake Go were unanimously acclaimed. Swiss know-how was not overlooked, with Puts Marie and Rootwoords enthralling their audiences, whilst La Forêt and Flexfab both dazzled with their very efficient electro.
The Village du Monde set off on a voyage of discovery to the Far East with the whimsical Pascals, the post-punk of Jambinai and the airy electro of AM444. On the fringes of the concerts, the Ruche and its "plurality of singular projects" played host to a series of hypnotic shows that delighted fans of street theatre. At the Quartier des Alpes, the public were able to appreciate the sculptures created specially by those metallic lace makers of Monic la Mouche and discover the fascinating levitations of Etienne Krähenbühl. Numerous visitors also explored the HES-SO's astonishing Air Factory installation and the exhibition Un autre regard, mounted in partnership with the Musée de l'Elysée.
ARTISTS
120 secondes présente Paléo, A Moving Sound, AM444, Acid Arab Live, Alo Wala, Angus & Julia Stone, Anthony B, Arno "European Peace Collectif", Arthur H, Baden Baden, Barbapapi, Batida, Ben Harper & The Innocent Criminals, Benjamin Clementine, Biga*Ranx, Bigflo & Oli, Blønd and Blønd and Blōnd, Brodinski presents Brava, Calogero, Caravan Palace, Carlo de Rosa, photographe, Charlie Winston, Chinese Man, Christine and The Queens, Cie Colbok dans "Les Hirsutes", Cie D'Outre-Rue dans "Amen World", Cie D'Outre-Rue dans "On Air", Cie D'Outre-Rue dans "Petites Prophéties Urbaines", Cie Lucamoros dans "Quatre Soleils", Cie Machtiern dans "Le Flamand Rose", Cie Machtiern dans "Les Caboches", Cie Picto Facto dans "Coquecigrues", Cie Progéniture dans "Pat Mouille et ses Mouillettes", Cie Qualité Street dans "La Beauté du monde", Coconut Kings, Coely, Comédie Musicale Improvisée de Rue, Cœur de Pirate, David Guetta, Dawanggang, Disco Doom, Disorder, Djaikovski feat T.K. Wonder and MC Wasp, Dragon et Lions, Duck Duck Grey Duck, EZ3kiel, Etienne Daho, Etienne Krähenbühl - Le Jardin des Sculptures, Explosion de Caca, FKJ Live, Faada Freddy, Fabian Tharin, Faithless, Fauve ≠, Feu! Chatterton, Flavia Coelho, FlexFab, Fondation Hirondelle (partenaire Festival), Friends-International, FùGù MANGO, Gary Clark Jr., Gocoo, Gramatik, Guillaume Perret & The Electric Epic, Hanggai, Hell's Kitchen, Husbands, Huun-Huur-Tu, Idiotape, Izia, Jambinai, Jeanne Added, Joan Baez, Johnny Hallyday, Karaoké excentrique, Kate Tempest, Kev Adams, Kings Of Leon, Klaus Johann Grobe, L'Orchestre des Continents, Direction Thierry Fischer - Piano Louis Schwizgebel, La Forêt, Larytta, Lemonick feat. Vj Gertrude Tuning, Les Amis de Rach Gia, Les MissTrash dans "To Do Tout Doux", Les Oeils dans "T.S.F. Soundsystem", Les Tambours de Tokyo, Luce & Mathieu Boogaerts, Ma Khunn Cho, Madeon, Magnetic Ensemble dans "BallRoom360°", Maison Chance (partenaire Village du Monde), Malicorne, Maïa Barouh, Mercedes Riedy, "Work in Progress", photographer, Mina Tindle, Monic La Mouche, Muthoni The Drummer Queen, Médecins Sans Frontières, Nneka, Noreum Machi, Nouvelle Planète, Olivia Pedroli, One Sentence. Supervisor, Orchestre Tout Puissant Marcel Duchamp, Pascals, Passenger, Patti Smith and her band performing Horses, Peter Kernel, Pierre Lapointe, Primasch, Puts Marie, Quignon sur Rue dans "La Grande Distribution", Robbie Williams, Robbing Millions, Robert Plant and The Sensational Space Shifters, Rootwords, Rural Development Society Suisse, Salomé Leclerc, Santigold, Second Hand Rose, Shake Shake Go, Shanren, Sianna, Sim's, Siriusmodeselektor, Soprano, Soviet Suprem, Sting, The Dude of Stratosphear, The Dø, The Paradise Bangkok Molam International Band, The Script, Thylacine, Tim & Puma Mimi, Too Many Zooz, Triggerfinger, Tulegur, Variations de danses thaïlandaises, Violons Barbares, Véronique Sanson, Wang Li, Yael Naim, Yaniss Odua, Yat-Kha, Yellow Teeth, Yoanna, Étienne de Crécy présente Super Discount 3