2022
From July 19th to 24th 2022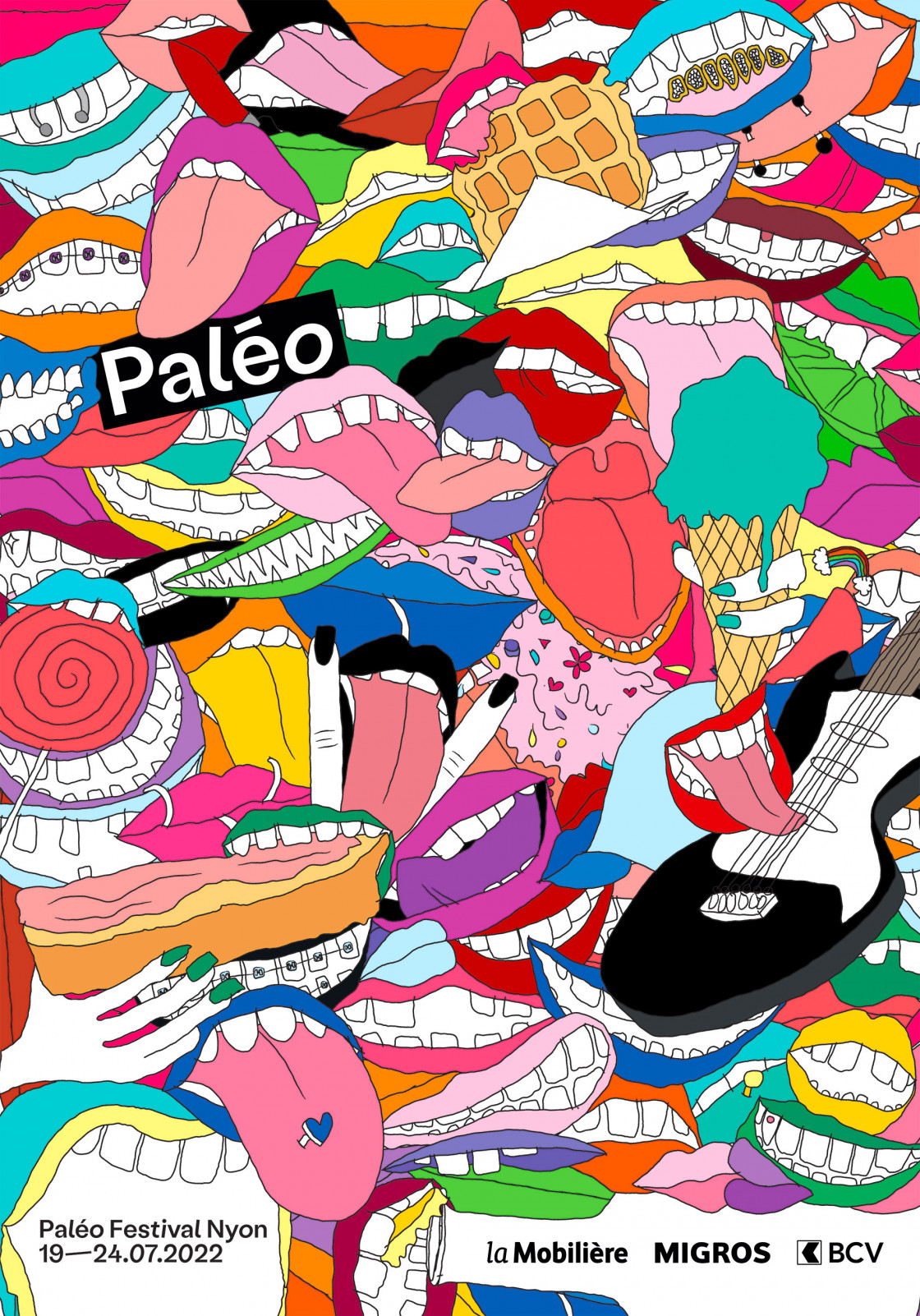 7 stages
250 concerts and shows
300,000 spectators
19 hectares
5,200 volunteers
Poster designed by Julietta Saccardi 
After a grand opening with a superb and extravagant show by KISS, the Main Stage held its own with some particularly outstanding live performances. There were crazy moments of total communion between the audience and the diverse artists, such as Angèle and her ultra-fresh pop,the highly anticipated PNL, the committed rap of Ninho and OrelSan or the soulful shows by Francis Cabrel, Sting and Rag'n'Bone Man. While DJ Snake turned the Plaine de l'Asse into the biggest dancefloor in Switzerland, Fatoumata Diawara, Gaël Faye and Berywam hit us right in the heart. 
Véga, the Festival's new stage with a capacity of 20,000 people, has fully found its place. It was the setting for extraordinary performances by -M-, Grand Corps Malade and Feu! Chatterton. The born performers, Juliette Armanet and Suzane, also stood out by sending the audience to the stars in their own way. 
Belleville was a massive hit right from the get-go, with crazy sets by Sama' Abdulahdi, Mall Grab and ascendant vierge. While Coco EM, O.B.F & Charlie P & Sr Wilson, Kampire and Gargäntua shook the dancefloor, Billx's hardtek broke the stage's attendance record. 
The Village du Monde hosted reflections of the incredible musical diversity of West Africa. On the Dôme stage, Ami Yèrèwolo, BIM (Bénin International Musical), Bombino, Star Feminine Band and Arka'n Asrafokor set the pace for the Festival with their exceptional charisma. 
The audience also strongly supported the Club Tent stage. Amongst the multitude of styles and genres, there were some big highlights, such as P.R2B, Marina Satti, Makoto San, Glauque and local favourites, Broken Bridge. 
Alongside the concerts, La Ruche hosted mesmerising shows that delighted fans of street theatre. The HES-SO (Dis)connected space with its superb honeycomb structures was once again a success. At Place de l'Envol, the poetry of the light garden seduced the public, who made the space their own by wandering around by day and night.   
ARTISTS
AMAMI, Ami Yèrèwolo, Angèle, Arka'n Asrafokor, Arma Jackson, Art Melody, Arthur Hnatek, ascendant vierge, BARON.E, Barrio Colette, Berywam, Billx, BIM, Blaiz Fayah, Bleu Jeans Bleu, Bombino, Bowmore, BROKEN BRIDGE, Catastrophe, Chilla, Cimafunk, Club Katel, Coco Em, DC Salas, DJ Snake, Dropkick Murphys, Dub Inc, Elida Almeida, Fatoumata Diawara, Feu! Chatterton, Flèche Love, FOKN Bois, Folamour: power to the ppl a/v, Francis Cabrel, Gaël Faye, GARGÄNTUA, Glauque, GLITTER55, Grand Corps Malade, Guiss Guiss Bou Bess, James BKS, Julien Granel, Juliette Armanet, Kajeem, Kampire, Kety Fusco, Kingzer, KISS, La Femme, Laolu, Le Bestiaire à Pampille, L'Eclair, Les Fils du Facteur, Little Lion Sound, Little Simz, -M-, Makoto San, Mall Grab, Manudigital & Caporal Negus, Mara, Marina Satti, Marius Bear, Meta and the Cornerstones, Metronomy, MEUTE, Mezerg, Michel, Mungo's Hi Fi, Ninho, Nuri, O.B.F & Charlie P & Sr Wilson, Onipa, Orchestre des Hautes écoles de musique de Suisse romande, OrelSan, Ozadya, P.R2B, Panda Dub, Perturbator, PNL, Pornopolis, Psycho Weazel, Queen Omega, Rag'n'Bone Man, Ramin&Reda, Red Axes, Roméo Elvis, Rōse, Sama' Abdulhadi, Santrofi, SCH, Schnautzi, Seun Kuti & Egypt 80, Silver Dust, Songhoy Blues, Sopico, STAR FEMININE BAND, Sting, Stromae, Suzane, Têtes Raides, The Murder Capital, Third World, Tryo, Turnstile, Ubik All Stars feat. Nello B, Vaudou Game, WolfGang, YĪN YĪN, Yseult, Zenobia